Protect your biggest investment with security alarms and intercom systems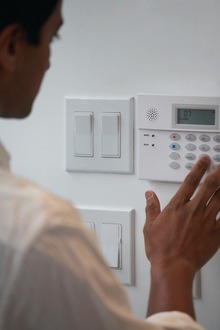 As the owner of a home or business, it's a given that you want to feel completely at ease - at all times - that your property is protected against burglary and/or intruders.




The team here at

4 Security Ltd

are specialists in commercial and home security alarms, as well as intercom systems, and are ideally placed to advise you how to best deal with your security issues.




To discuss your needs with one of our team, please complete the form to the right - we'll listen to your ideas, requirements and budget, and recommend a range of options for you to choose from.







Top quality intruder and burglar alarms

You can be rest assured that you'll receive a top quality alarm system for your property, as we work with trusted alarm system brands, such as Bosch, Paradox and Protege.
There are a range of keypad options for your new alarm system, such as standard screens, LCD screens and touch screens.
Trusted intercom systems

Enhance the security in and around your home or business with a quality intercom system.
Our intercom systems make it easy to keep out prospective intruders whilst welcoming legitimate visitors into your property.
There are a range of options to suit your individual needs and budget, including:
Audio only intercoms
Audio and video intercoms
IP intercoms
Aiphone, BPT and Mobotix are popular, well trusted brands that we can purchase your intercom system through, otherwise we can install other branded products at your request.
For additional security in your retail shop or office, talk to our security specialists about
CCTV security camera
system options.
---
Talk to our security company about...